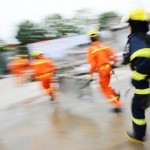 Australia generally has good weather, but there are rarities that pop up. For example, when high temperatures soar, and are combined with high winds destructive fires can result. Such happenings can have a devastating impact on communities in many ways. One such would be the affects on small business owners. Yet there are ways of being properly prepared for this situation.
One method of being prepared is to have a virtual office. This would combat the situation when it is unsafe to travel to your office location, or the office itself may have been damaged and in need of repair. You will just need to make sure your staff has access to the correct devices. A software like Office 365 will allow your workers to access email, make video calls, and work on every day files.
In case of the absolute worst scenario, where your office is destroyed to the point that there is no way to recover anything, you had better have a back up system at another secure location. An affordable way of obtaining a very secure back up system is to use Microsoft Azure. This is a collection of cloud services that includes analytics, computing, and data bases. This type of cloud software will give you peace of mind in case a natural disaster occurs.
Of course, returning things to normal can be critical to you resuming your business with the proper amount of cash flow, and with a competent staff. Since there are all types of businesses, recovery time could vary. Having all your information technology in a safe place will make it easier to deal with the even more pressing concerns.