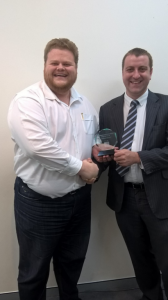 Correct Solutions is celebrating after Fujitsu selected us as the recipients of the Fujitsu Solutions Business Leadership Award. The award was presented to us at Fujitsu's Asia Pacific Partner Conference 2016 in Tokyo which is held each year to coincide with Fujitsu's flagship event, Fujitsu Forum Tokyo.
Only 19 companies among 500 SELECT Partner registered companies have been awarded based on their sales result or business contribution in FY 2015 – 16.
Correct Solutions' Managing Director, Ryan Spillane said it was an honour to receive this award.
"We have a great relationship with Fujitsu and don't feel like we are just a number, we have helped shape the partner program in Australia and this has meant we can make sure there are benefits to all levels of the relationship, being the Vendor, Partner (Us) and the End Client. Too many vendor programs are focused around the vendor only rather than what we can all do to help the End Client"
Fujitsu has recognised us as one of the partners that have delivered strong value in terms of revenue, quality of strategic partnerships and continued success in particular in delivering innovative solutions in the areas of cloud business, virtualisation and disaster recovery.
The Fujitsu Forum 2016 featured a variety of seminars and demonstrations of different areas of business, such as manufacturing, marketing, distribution, healthcare, finance and society.
Being recognised as the best partner in our specific category is something we take pride in and hope that our continued focus on customer satisfaction has been the driving force behind our success. We will continue delivering strong value to our vendor partners and our customers.